Action Force is a heroic team led by Action Man.
1990s series
Edit
The amnesiac Action Man is found by a team called the Action Force that helps him against Dr X while he tries to remember his past.
Membership:
2000s series
Edit
Another Action Force known as Team Xtreme appears in the 2000 version show of Action Man, which is unrelated to the 1995 show.
Membership:
Direct to video movies
Edit
A new Action Force appears in Action Man: Robot Atak and its sequels Action Man: X Missions and Action Man: Código Gangrena.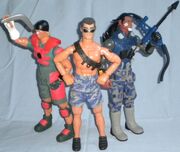 Membership:
Ad blocker interference detected!
Wikia is a free-to-use site that makes money from advertising. We have a modified experience for viewers using ad blockers

Wikia is not accessible if you've made further modifications. Remove the custom ad blocker rule(s) and the page will load as expected.